[ Home ] [ Biography ] [ Shows/Classes ] [ Gallery ] [ Contact Information ]
Artist Statement
Marianne D. Cracovaner's work depicts the visual simplicity and complexity of our Sonoran tradition. She uses color and texture to revisit wooden gates and barrio walls, desert wash landscapes, and mountain wildflowers to imagine and reinvent the culture that is the experience of this place, her home.
While Ms. Cracovaner often works in a traditional manner painting plein air style outdoors and creating still life set ups in the studio, her works display a contemporary edge. She dramatically works the surface, incorporating brushwork, palette knife, and layers of paint to transform light which resonates through emblazoned oil surfaces to recreate the scene. The texture, color and dimensional quality partner with light to create and intimate view and an immediacy which brings freshness to the vision.
Ms. Cracovaner's vivid palette and palette knife create an intensely personal realm.
About the Artist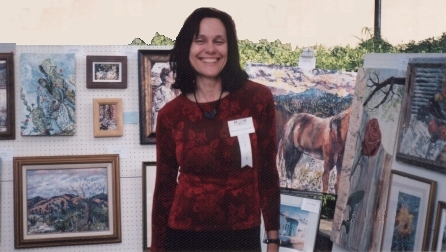 Marianne D. Cracovaner has lived in southern Arizona since 1973. Originally born and raised on Long Island, New York, she received her Bachelor of Fine Arts degree in 1972 from William Smith College. She has also studied art at Pima Community College and at the University of Arizona.
From 1975-85 she worked in residential treatment centers in Bisbee and Tucson as a teacher and counselor with delinquent and emotionally disturbed teenagers. After a child-rearing sabbatical, Ms. Cracovaner began studying and working with Mural Artist David Tineo in 1992. From 1993-97 she worked as a community mural artist, and her murals can be seen around Tucson at schools, playgrounds, libraries and community centers. In 1996 she was a featured artist in an Arizona Commission on the Arts educational film, "The Big Picture, Tucson's Murals." Ms. Cracovaner was an artist-in-residence with TUSD's Visual Literacy and Cultural Diversity programs from 1995-97. At this time, she developed and taught a program involving portraiture on tile to elementary through middle school students. These tile decorate the hallways, libraries and common areas of many of Tucson schools.
In 1998 she returned to painting individual works for private collection. Since that time, her paintings have appeared at numerous exhibits and galleries around Tucson, including: the Plein Air Art Show, Dante Fraboni Studio, Gallery of Heart, DeGrazia's Little Gallery, Taller de Arte Manu Gallery, The Phantom Gallery, Tucson Museum of Art, Tucson Arts District Partnership, The University of Arizona and Old Fort Lowell Neighborhood. She has received awards from the Tucson Community Foundation, the Tucson Pima Arts Council and the Arizona Commission of the Arts and was scheduled as a featured artist for the Tucson Arts District Partnership Art Market 2001 calendar. A work painted by Ms. Cracovaner was presented as a gift to the Man of the Year at the annual ceremony for the Jewish Federation for Southern Arizona. She is a member and past officer of the Southwest League of Fine Arts (00-present) and also a member of the Tubac Center of the Arts. Recently, Marianne also displayed work in the Karen Newby Tubac Center of the Arts Little Treasures Miniatures Show (Fall '04) and earned an honorable mention.
Ms. Cracovaner continues to involve her work in art shows and silent auctions, which benefit schools, nature programs, neighborhoods and youth agencies. She has shown work in charity events at Tucson Botaniical Garden as well as sold work in their shop. Charities to whom Ms. Contributed work to recently include: The Tucson Art District Partnership Urban Picnic Event held at The Tucson Museum of Art (04), as well as their Artist Open Studio Event and Auction (03 & 04), Historic Stone Avenue Temple (03 & 04) and the Ara Parsighian Medical Research Foundation Golf Tournament, Dinner and Silent Auction sponsored by University Medical Center (04). A fundraiser Art on the Lawn, developed and held at a local resort (01 & 02) was also empowered by a unique group of Tucson artists whose members included Ms. Cracovaner. Partnerships with La Paloma Family Services, The Women's Association of Southern Arizona, and the Community Food Bank allowed the artists to give back to the community. In addition, by working with local merchants this same artist group produced an event in the Lost Barrio (01), which included art sale booths, and art related activities for families in the partnership. In 2002, with the support of the Old Fort Lowell Neighborhood Association and a special committee, Ms. Cracovaner helped begin a new tradition, an art show to which artists contributed a miniature toward the financial cause of the historic neighborhood. Marianne believes service is an important tool essential to self and community improvement.
A professional artist with a history of teaching and working with various populations, Ms. Cracovaner likes to develop programs, which involve passing on her passion for painting to new students. She has been involved in creating new classes to be held at various locations in Tucson and is a student at the Isis Southwest Expressive Arts Training Institute.
Marianne D. Cracovaner has displayed work at the following Arizona Galleries: Quinn Gallery at Talaquepaque in Sedona, Tucson galleries- Old Pueblo Frameworks and Gallery, Desert Artisan Gallery, Dante Fraboni's Studios and Garden Arts, Art and Clay Designs, as well as Cobalt Fine Arts Gallery in Tubac.
She lives in Tucson with her husband and two sons.